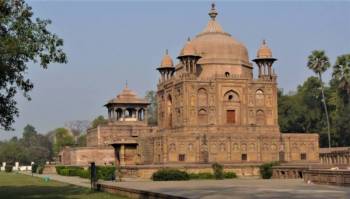 Early breakfast at hotel.
After breakfast proceed for same day excursion to Prayagraj.
Triveni Sangam is the junction point of three rivers - Ganga, Yamuna, and Saraswati (which is a
mythical river, supposed to have dried up millenniums ago) Both Ganga and Yamuna are
extremely revered rivers in Indian mythology, and hence the confluence point of these rivers has
attained extremely high religious importance.
Anand Bhawan is the former residence of Nehru family which has now been transformed into a
museum showcasing various artefacts and articles of the era of Independence movement in
India.Khusro Bagh was built by King Jahangir for his son Khusro. The tombstone of the prince lies in
this garden along with that of his mother Shah Begum.
Allahabad Fort is a splendid work of architecture that was built during the reign of Akbar, the
Mughal Emperor in 1583. The marvelous structure is located on the banks of the confluence of
the Rivers Ganga and Yamuna and is well-known for being the largest fort ever built by Akbar.
Bade Hanuman Mandir is located at Sangam area of Allahabad. Constructed underground, with
a leaning posture of 20-feet long and 8-feet wide deity of Hanuman, this temple is one of its own
kind.
Later in the evening return back to Varanasi.
Overnight Stay at Hotel in Varanasi.