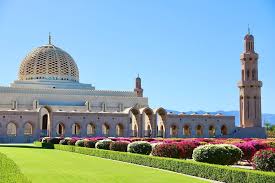 Pickup from the hotel and proceed to visit the Grand Mosque (not possible on Friday and other public holidays),
highlight of the Muscat city. Completed in 2001, Grand Mosque is a beautiful building which looks modern but shows
that modern craftsmen have retained the skills necessary to create this wonderful traditional environment. It is
impossible not to take more and more pictures. The handmade carpets, the chandeliers, the ceiling of the great dome in
the main prayer room are absolute 'must sees'. Kindly note, ladies to be fully covered and to carry a head scarf and
men should wear trousers.Drive along the waterfront Corniche visiting the colorful Muttrah Souq.
We proceed for a photo stop to the magnificent Al Alam Palace, official palace of His Majesty Sultan Qaboos flanked by
the 16th century Portuguese forts Mirani and Jalali. Proceed to visit Bait Al Zubair Museum to have a glimpse of Omans
history.
Proceed back to the Hotel
Overnight stay at Muscat Hotel of choice.